OSHKOSH AIRPORT PRODUCTS INTRODUCES
NEW OSHKOSH XT TOW-BEHIND BROOM

All-new tow-behind broom matched with updated XRS system and H-Series chassis.

OSHKOSH, WIS. (April 22, 2013) – Oshkosh Airport Products Group, a division of Oshkosh Corporation (NYSE: OSK), announced the introduction of the Oshkosh® XT Tow-Behind Broom at the Snow Symposium in Buffalo, New York that runs through April 24.

"The new Oshkosh XT Tow-Behind Broom is a direct response to the extensive input we received from airport operations managers and snow removal professionals who seek to move snow as quickly and efficiently as possible from airport runways," said Jeff Resch, Oshkosh Airport Products Group vice president and general manager. "The design of the Oshkosh XT allows for more precise broom positioning and enhanced performance."

The Oshkosh XT Tow-Behind Broom is available in widths of 18, 20, and 22 feet, and is designed for high-speed snow removal with superior performance and control. The broom pattern is managed from either inside the cab (utilizing an interactive display with joystick and switches integrated into the arm rest) or at the broom engine enclosure. The active weight transfer system helps ensure an optimal broom pattern, while the innovative, Oshkosh OEM-exclusive SIB cassette brush system boasts easier operation with less vibration, while minimizing bristle-changing time and labor costs.

When matched with the H-Series chassis and XRS front-mount attachment, this single unit is a faster, simpler way to handle the most severe winter conditions. The Oshkosh XRS front-mount attachment is engineered to simultaneously plow, collect, and blow snow. The proven 2-stage blower head design features a dedicated 575 hp engine (optional 700 hp) and dual wing-mounted ribbon augers that clear snow widths up to 20 feet in a single pass.

The legendary H-Series snow chassis offers increased operator visibility, unparalleled performance, and legendary reliability. The chassis features an Oshkosh heavy-duty single piece frame, the Oshkosh ALL STEER® system for unmatched maneuverability, and Command Zone™ advanced electronics CAN control system with self-diagnostics capabilities.


"When paired with our H-Series chassis and innovative XRS front-mount attachment, the benefits of this integrated multi-tasking vehicle are significant for airports both large and small," added Resch. "With fewer pieces of equipment on the runway – simultaneously performing a wider range of tasks – the end result is a more streamlined, effective and efficient operation."

Service and support is offered through the Oshkosh network of snow removal dealers. Visit www.oshkoshairport.com for details and to see video of the product in action.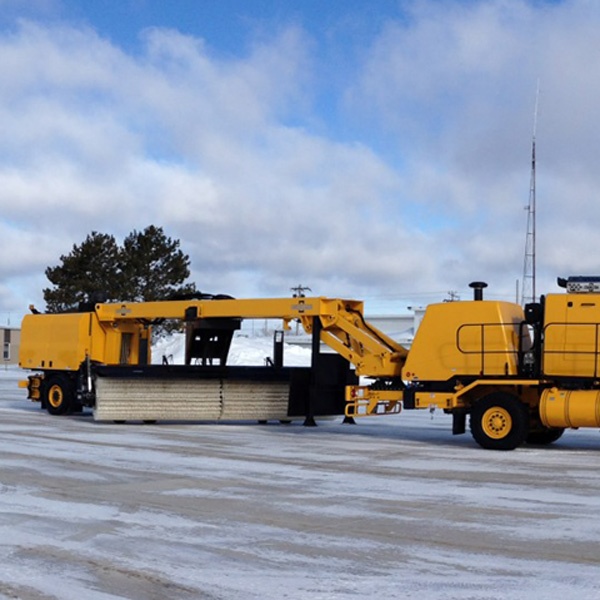 Photo caption: Oshkosh Airport Products today announced the introduction of the Oshkosh® XT Tow-Behind Broom at the Snow Symposium in Buffalo, New York that runs through April 24. Click the photo to view a full size version.

About Oshkosh Airport Products
The Oshkosh Airport Group, a division of Oshkosh Corporation, is a designer and builder of industry-leading airport firefighting and snow removal vehicles. Its flagship Striker® Aircraft Rescue and Fire Fighting (ARFF) vehicle and Oshkosh® H-Series™ snow removal chassis are known for their durability and superior performance and sold throughout the world. For more information, visit www.oshkoshairport.com.

About Oshkosh Corporation
Oshkosh Corporation is a leading designer, manufacturer and marketer of a broad range of specialty access equipment, commercial, fire & emergency and military vehicles and vehicle bodies. Oshkosh Corporation manufactures, distributes and services products under the brands of Oshkosh®, JLG®, Pierce®, McNeilus®, Jerr-Dan®, , Frontline™, CON-E-CO®, London® and IMT®. Oshkosh products are valued worldwide in businesses where high quality, superior performance, rugged reliability and long-term value are paramount. For more information, please visit www.oshkoshcorporation.com.


®, ™ All brand names referred to in this news release are trademarks of Oshkosh Corporation or its subsidiary companies.

Forward-Looking Statements
This press release contains statements that the Company believes to be "forward-looking statements" within the meaning of the Private Securities Litigation Reform Act of 1995. All statements other than statements of historical fact, including, without limitation, statements regarding the Company's future financial position, business strategy, targets, projected sales, costs, earnings, capital expenditures, debt levels and cash flows, and plans and objectives of management for future operations, are forward-looking statements. When used in this press release, words such as "may," "will," "expect," "intend," "estimate," "anticipate," "believe," "should," "project" or "plan" or the negative thereof or variations thereon or similar terminology are generally intended to identify forward-looking statements. These forward-looking statements are not guarantees of future performance and are subject to risks, uncertainties, assumptions and other factors, some of which are beyond the Company's control, which could cause actual results to differ materially from those expressed or implied by such forward-looking statements. These factors include the cyclical nature of the Company's access equipment, commercial and fire & emergency markets, especially in the current environment where there are conflicting signs regarding the global economic outlook and the ability of the U.S. government to resolve budgetary and debt issues; the expected level and timing of the U.S. Department of Defense (DoD) procurement of products and services and funding thereof; risks related to reductions in government expenditures in light of U.S. defense budget pressures and an uncertain DoD tactical wheeled vehicle strategy; the ability to comply with laws and regulations applicable to U.S. government contractors; the ability to increase prices to raise margins or offset higher input costs; increasing commodity and other raw material costs, particularly in a sustained economic recovery; risks related to the Company's exit from its ambulance business, including the amounts of related costs and charges; risks related to facilities consolidation and alignment, including the amounts of related costs and charges and that anticipated cost savings may not be achieved; the duration of the ongoing global economic weakness, which could lead to additional impairment charges related to many of the Company's intangible assets and/or a slower recovery in the Company's cyclical businesses than Company or equity market expectations; the potential for the U.S. government to competitively bid the Company's Army and Marine Corps contracts; risks related to the collectability of receivables, particularly for those businesses with exposure to construction markets; the cost of any warranty campaigns related to the Company's products; risks related to production or shipment delays arising from quality or production issues; risks associated with international operations and sales, including foreign currency fluctuations and compliance with the Foreign Corrupt Practices Act; risks related to actions of activist shareholders; and risks related to the Company's ability to successfully execute on its strategic road map and meet its long-term financial goals. Additional information concerning these and other factors is contained in the Company's filings with the Securities and Exchange Commission. All forward-looking statements speak only as of the date of this press release. The Company assumes no obligation, and disclaims any obligation, to update information contained in this press release. Investors should be aware that the Company may not update such information until the Company's next quarterly earnings conference call, if at all.

# # #