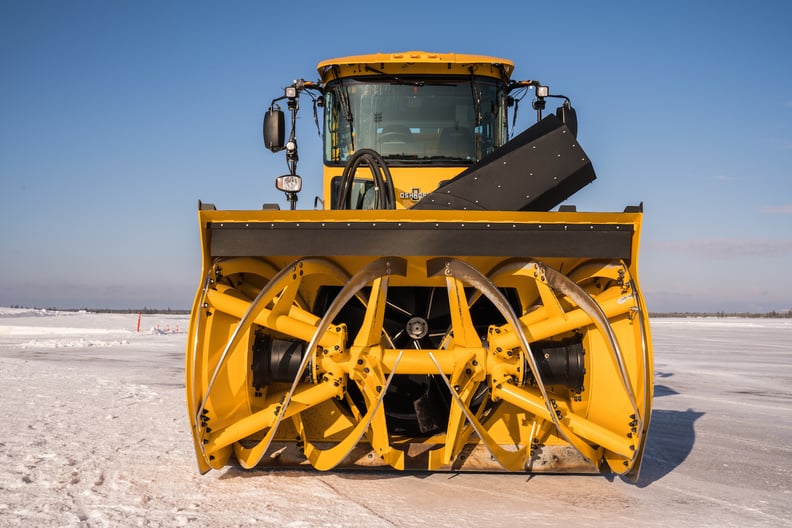 Oshkosh Airport Products H-Series™ Display and New Technology Demonstrations Set for 2019 NEC/AAAE International Aviation Snow Symposium to be held at the Buffalo Niagara Convention Center in Buffalo, New York on April 27 – May 1.
OSHKOSH, WIS. (April 24, 2019) – Oshkosh Airport Products, LLC, an Oshkosh Corporation (NYSE: OSK) Company, announced today that it will be present at the NEC/AAAE International Aviation Snow Symposium on April 27 - May 1, 2019. An event focused exclusively on airfield snow removal and operations, Oshkosh Airport Products will have three snow trucks on display from the new, fourth-generation Oshkosh® H-Series™ including the dual engine blower, dual engine broom, and multi-purpose vehicle. The latest generation of H-Series products feature a robust, enhanced Oshkosh chassis – the longstanding leader for visibility, adaptivity, comfort, and safety. Additionally, design improvements have been made to a range of innovative attachments that deliver optimal performance.
H-Series™ Dual Engine Blower: The exclusive Oshkosh high-speed blower allows for the incredible removal of 5,000 tons of snow per hour from a broader and deeper cab. Snow can be cast up to 200 feet depending on conditions. The 4-cycle blower engine, clean running Scania® DC16, and V8 with 550 horsepower at 1,800 RPM seamlessly integrate into a variety of equipment features.
H-Series™ Dual Engine XF Broom: The H-Series XF front-mounted broom enables fast, smart and more reliable snow removal. Exclusive features like the available weight transfer system keep the weight on the front axle for improved broom performance and chassis control.
H-Series™ Multi-Purpose: This is a multi-purpose vehicle with a front-mounted broom and powerful twin air blowers to perform a myriad of snow removal tasks simultaneously.
H-Series trucks share the legendary Oshkosh all-wheel drive, custom chassis, increased parts commonality, true auto-locking transfer case, and multiple attachments for go-to snow removal.
"The snow trucks we chose to feature this year are designed to exceed performance standards and address the critical accessibility needs of airports around the globe," says Sam Lowe, Marketing Manager for Oshkosh Airport Products. "And as a direct response to voice of customer feedback, we are excited to showcase three innovative vehicles and the proprietary, advanced technologies that only further enhance the H-Series adaptability, comfort, and safety."
In addition to the trucks on display, attendees will have the opportunity to experience Oshkosh Airport Products' proprietary vehicle technologies and advanced operator control electronic systems - all available for demonstration and hands-on interaction.
No regen on Oshkosh snow products: Scania's DC13 and DC16 are our quietest and most responsive powertrains to date. Without diesel particulate filters (DPFs) and active regeneration they deliver greater up-time without forced downtime while reducing operating costs and complexity.
Scania powerplants: Scania has developed a class-leading engine line up to deliver maximum productivity, low fuel consumption, excellent power-to-weight ratio, long service life, and low maintenance costs. Oshkosh snow products durable, fuel-efficient engines deliver maximum uptime with minimum maintenance.
Increased parts commonality: Engineered to feature more than 80% component commonality across the entire H-Series vehicle family (e.g. common radiator, fan, and fan clutch for all blowers, brooms, and plows both drive and auxiliary engines) for greater simplification and serviceability. Coordinated ARFF and snow powertrains from Scania offer greater commonality across airport vehicle fleets.
True auto-locking transfer case: Road-proven auto-locking transfer case with military roots eliminates driver error, protects against damage and ensures safe operation.
To learn more about the featured equipment capabilities and new technologies on display at this year's symposium, check out these videos.