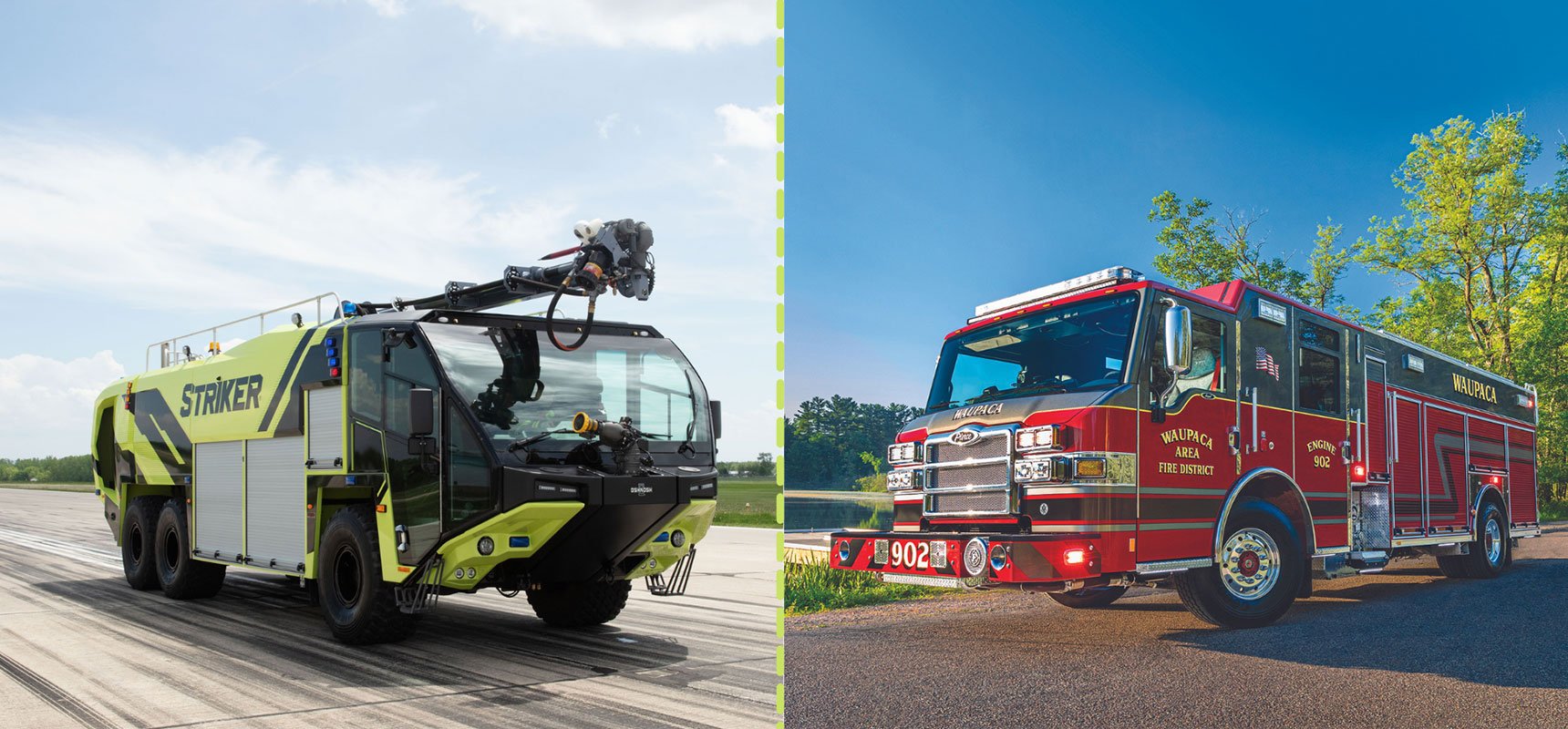 Firefighters respond to emergencies in a wide variety of environments which require the proper type of equipment to safely and effectively get the job done. Airports are a particularly unique environment and utilize specialized Aircraft Rescue and Firefighting trucks, or ARFF trucks, that are designed to handle emergencies involving airplanes.

You may have seen an airport fire truck operating on the tarmac while boarding a flight and noticed how different it looked compared to the fire trucks you see in your community. But what else makes these aircraft fire trucks so different from municipal fire trucks?
Water Supply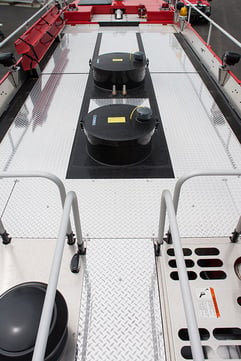 Airport fire trucks typically have far more limited access to nearby water supplies from fire hydrants than municipal trucks do, which means they have to carry their water supply with the vehicle. For example, the Oshkosh Striker® 8x8 can carry up to 4,500 gallons of water at a time. Because of the added weight from the additional water, an airport fire truck has a much larger and wider wheelbase than municipal trucks.

Municipal trucks can also carry water with them, with tank options available in a variety of different sizes based on the type of apparatus and a community's needs. For comparison, Pierce fire apparatus water tanks vary greatly in size and the level of customization available depending on if the vehicle is a pumper, aerial, tanker or other type of truck. One differentiation for municipal fire trucks and ARFF fire trucks is in many locations, communities make hydrants available for municipal trucks to connect to and access a greater water supply.
Fire Suppression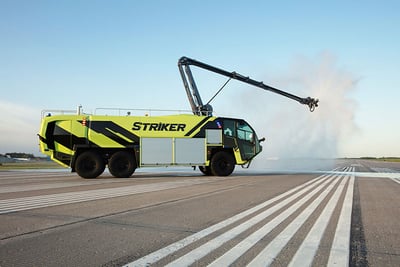 In addition to water, both ARFF and municipal fire trucks have the ability to carry additional firefighting agents on board. But airport fire trucks must be able to carry a greater variety of agents than municipal trucks because of the nature of the fires they encounter. Aircraft fires can spread very quickly and burn more intensely with the type of fuel carried on board. It's extremely important to be able to neutralize an aircraft fire as quickly as possible.

There are three primary fire suppressants an ARFF truck can carry:

Water
Firefighting Foam
Dry Chemicals
Firefighting foam is mixed with water and often used for fuel spills because it coats surfaces and suppresses the fire by cutting off its oxygen supply. Additionally, there are numerous types of dry chemicals which can be used in different situations including the suppression of chemical and electrical fires. Dry chemicals are frequently used in industrial settings, where chemical and electrical fires are at a high risk. Dry chemicals are only used when needed due to the fine particulates which spread easily over a large area and require thorough cleanup.

An airport fire truck also has the option for nozzles to be mounted on the exterior of the vehicle and on a boom which allows for fire suppressant attack from many angles, including in the air, on the ground, and far below grade. The Oshkosh Snozzle® High Reach Extendable Turret can be operated from inside of the cab and is an incredibly beneficial feature. The Snozzle HRET reduces, or even eliminates, the need for hoses which take time to set up on scene and may require firefighters to get too close to the fire. It can also penetrate the outside of an aircraft from 50 or 65 feet to deploy fire suppressants directly inside the aircraft and release up to 250 gallons of water per minute.

Municipal fire trucks can also be equipped with the Snozzle HRET, using the piercing tip to penetrate a structure. Fire departments can decide to use a nozzle only version of the feature to give firefighters an elevated water source to attack a fire.

How Fast Can Airport Fire Trucks Go?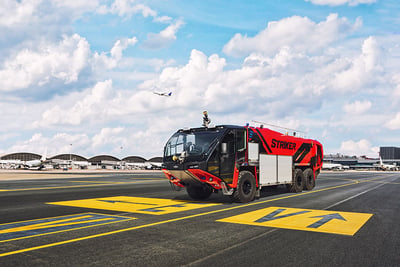 The NFPA (National Fire Protection Association) sets standards for both ARFF trucks and municipal fire trucks. The acceleration requirements are more aggressive for the airport fire trucks because it is critical to arrive at the aircraft before the fire reaches the fuel tanks, where extremely flammable jet fuel is stored.
Airport fire trucks are required to be able to accelerate from 0 to 50 miles per hour in 25 seconds or less and reach a top speed of at least 70 miles per hour. Municipal trucks on the other hand must be able to accelerate from 0 to 35 miles per hour in 25 seconds and reach a top speed of at least 50 miles per hour.
Difference in Operating Environments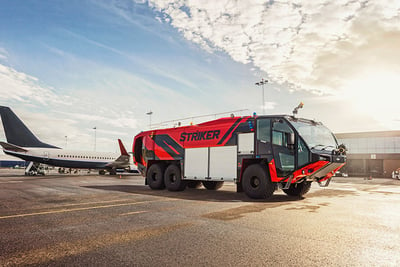 Airport fire trucks are typically much better suited for off-road driving than municipal trucks. They will often have special off-road tires and a suspension system built for rougher, off-road terrain which may exist on or near an airport. The Oshkosh Striker ARFF truck comes standard with the Oshkosh TAK-4™all-wheel independent suspension, which is critical when trying to reach a plane which has landed off the paved runway.

Municipal fire trucks will most often operate on paved surfaces including local streets and freeways. Some fire trucks in suburban and rural areas may include off-road capabilities. Municipal fire departments can also choose the TAK-4 Independent Suspension or TAK-4 T3 Independent Rear Suspension with tight turning technology, for improved ride quality and to match the needs of their service area.

The ultimate goal of airport and municipal firefighters is the same; to extinguish fires, mitigate damage, and above all, save lives. ARFF trucks provide customized capabilities for the unique airport environments they operate in.

Are you ready to learn more about the unique and customizable attributes of Oshkosh Airport Products ARFF trucks? Contact our knowledgeable team today or post a question in the comments below.