With expanded features, versatile aerial device continues to grow customer base.
OSHKOSH, WIS. (August 9, 2016) – Oshkosh Airport Products LLC, an Oshkosh Corporation (NYSE: OSK) company, has delivered an Oshkosh® Striker® 6 X 6 aircraft rescue and fire fighting (ARFF) vehicle equipped with a Snozzle® high-reach extendable turret (HRET) to Tucson International Airport in Tucson, Arizona. The delivery represents the 100th Snozzle sold since Oshkosh acquired this sophisticated product line.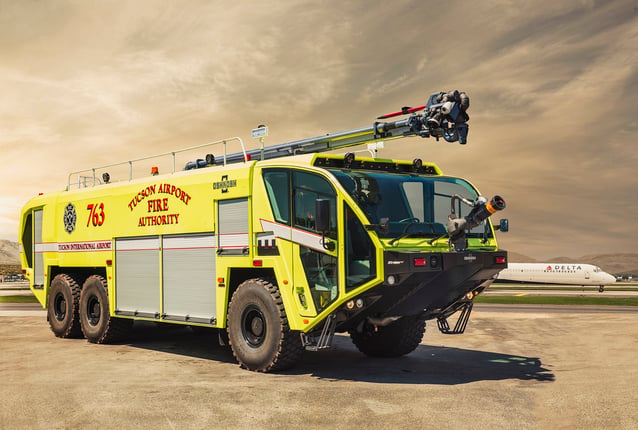 "The Oshkosh-exclusive Snozzle sets the industry standard, and we're really proud to place our 100th Snozzle-equipped apparatus on duty with Tucson International Airport," said Jeff Resch, Oshkosh Airport Products Group vice president and general manager. "The Snozzle continues to gain new customers beyond aircraft rescue and firefighting – including municipal fire departments, mining operations, oilfield and petrochemical plants, and other applications – where its many benefits enhance performance while keeping firefighters further away from danger."
"Safety is a top priority for the Tucson Airport Authority (TAA)," said Bonnie Allin, Tucson Airport Authority President/CEO. "Having the right equipment for our public safety personnel is critical, particularly when it comes to our aircraft rescue and firefighting trucks. We're excited to welcome the new truck to TAA's Fire Department."
The Oshkosh Snozzle is available on the Striker's full range of 4 X 4, 6 X 6 and 8 X 8 models, as well as on Pierce custom chassis. The Snozzle features a hardened carbide steel tip, a perforated nozzle, and a forward-looking infrared camera. The device enables firefighters to discharge from 6.1 meters (20 feet) below grade to elevations as high as 19.8 meters (65 feet).
Oshkosh continues to invest in the Snozzle HRET to keep it at the leading edge of firefighting technology. Recent advancements include integrating the electronic control system for easier troubleshooting, faster servicing, and enhanced reliability. The piercing steel tip now offers an updated hydraulic rotary actuator, an increased range of motion (up to 280º), longer piercing depth, and a decreased overall width for better visibility. Inside the cab, a new control module feature simplifies operator controls and provides smoother operation.
The Striker 6 x 6 for Tucson International Airport is equipped with a 697 hp engine, a 7-speed automatic transmission, and Oshkosh TAK-4® all wheel and fully independent suspension for a smooth ride and exceptional off-road capabilities. The firefighting system includes a 50-foot Snozzle, an electric joystick controlled 300-gpm front bumper turret, an 11,356-liter (3,000-gallon) water tank, a 1590-liter (420-gallon) foam cell, and a 249-kilogram (550-pound) dry chemical system for multiple agent fire suppression capabilities.
Photo caption: Oshkosh Airport Products has delivered an Oshkosh Striker 6 X 6 equipped with a Snozzle High-Reach Extendable Turret (HRET) to Tucson International Airport in Tucson, Arizona. The delivery represents the 100th Snozzle HRET sold since Oshkosh acquired the brand.
About The Tucson Airport Authority
The Tucson Airport Authority (TAA) is an independent, non-profit organization operating Tucson International Airport (TUS) and general aviation reliever Ryan Airfield (RYN). TAA has sustained its operations since its origin in 1948 from airport generated revenues without the use of local taxes, and continues to invest millions of dollars each year in safety, security and facility infrastructure that drives job creation and economic activity for the benefit of Tucson and southern Arizona. The two airports currently support 35,000 jobs and house more than 100 tenants, and serve a diverse mix of both aviation and non-aviation related businesses, as well as military and government operations.
About Oshkosh Airport Products
Oshkosh Airport Products, LLC, a division of Oshkosh Corporation (NYSE: OSK), is a designer and builder of industry-leading airport firefighting and snow removal vehicles. Its flagship Striker® Aircraft Rescue and Fire Fighting (ARFF) vehicle and Oshkosh® H-Series™ snow removal chassis are known for their durability and superior performance and sold throughout the world. For more information, visit www.oshkoshairport.com.
About Oshkosh Corporation
Oshkosh Corporation is a leading designer, manufacturer and marketer of a broad range of access equipment, commercial, fire & emergency, military and specialty vehicles and vehicle bodies. Oshkosh Corporation manufactures, distributes and services products under the brands of Oshkosh®, JLG®, Pierce®, McNeilus®, Jerr-Dan®, Frontline™, CON-E-CO®, London® and IMT®. Oshkosh products are valued worldwide by rental companies, concrete placement and refuse collection businesses, fire & emergency departments, municipal and airport services and defense forces, where high quality, superior performance, rugged reliability and long-term value are paramount. For more information, please visit www.oshkoshcorporation.com.
®, TM All brand names referred to in this news release are trademarks of Oshkosh Corporation or its subsidiary companies.
Forward-Looking Statements
This press release contains statements that the Company believes to be "forward-looking statements" within the meaning of the Private Securities Litigation Reform Act of 1995. All statements other than statements of historical fact, including, without limitation, statements regarding the Company's future financial position, business strategy, targets, projected sales, costs, earnings, capital expenditures, debt levels and cash flows, and plans and objectives of management for future operations, are forward-looking statements. When used in this press release, words such as "may," "will," "expect," "intend," "estimate," "anticipate," "believe," "should," "project" or "plan" or the negative thereof or variations thereon or similar terminology are generally intended to identify forward-looking statements. These forward-looking statements are not guarantees of future performance and are subject to risks, uncertainties, assumptions and other factors, some of which are beyond the Company's control, which could cause actual results to differ materially from those expressed or implied by such forward-looking statements.
# # #