Striker Simulator "Test Drives" Available to all Attendees
OSHKOSH, WIS. (September 19, 2017) – Oshkosh Airport Products, LLC, an Oshkosh Corporation (NYSE: OSK) Company, will showcase a portfolio of innovative technologies at the 2017 ARFF Working Group (ARFFWG) Annual Educational Conference & Training Symposium. The conference, held in Louisville, Kentucky on September 17-20, is the premier event for the aviation firefighting industry. Technologies on display will include the Oshkosh® Striker® Simulator virtual reality training system. Booth visitors will have the opportunity to "test drive" and respond to simulated emergency situations in a virtual reality cab environment.
"We're excited to support the ARFF Working Group annual conference, and display a number of our newest and most innovative ARFF vehicle technologies and training tools," said Jeff Resch, Oshkosh Airport Products Group vice president and general manager. "When taken together, they demonstrate our capabilities and commitment to help ARFF professionals perform at the highest level."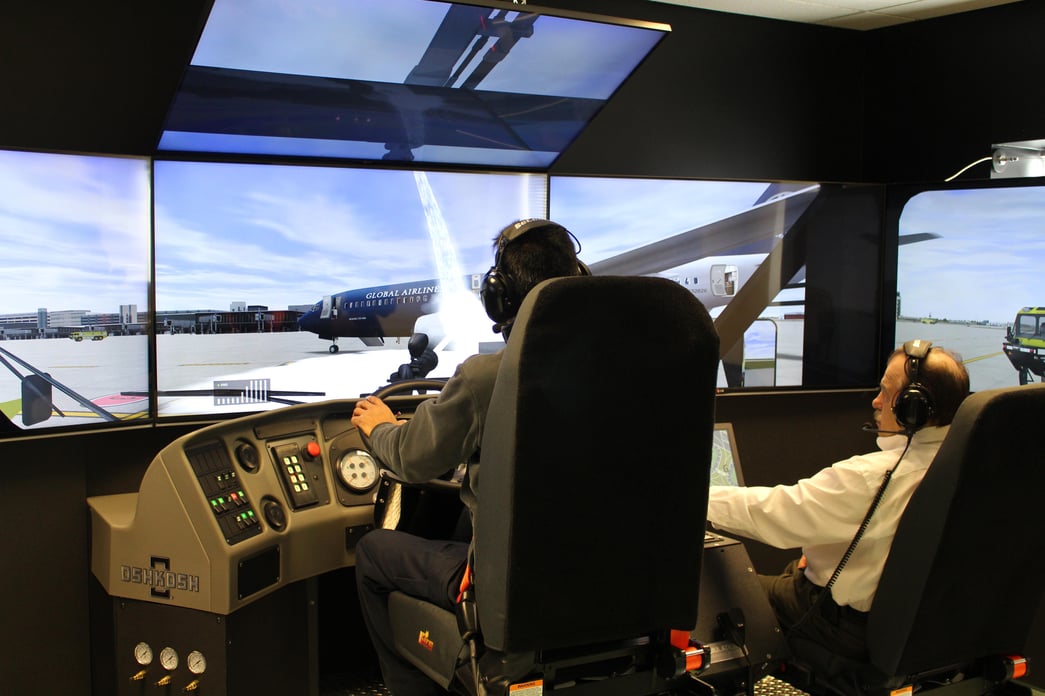 The Striker Simulator virtual reality training system features actual cockpit components from the Oshkosh Striker vehicle, and includes a complete 180-degree forward view as well as an overhead video monitor showing the Snozzle® high reach extendable turret (HRET) in action. The system depicts different environmental and weather conditions such as rain, snow, fog, night, and bright daylight as well as the delivery of dry chemical, foam, water, and even Halon.
Other componentry on display includes the innovative EcoEFP™ foam percentage test system. EcoEFP's patent pending electronic foam proportioning system allows ARFF crews to test the foam percentages without discharging any agent from the vehicle.
Also on hand will be the K-Factor™ system display, the new alignment tool that utilizes a sensor on the Snozzle HRET's piercing tip and a video monitor inside the cab to display a target for the operator. Finally, the interactive RunwayReady™ telematics system display shows remote diagnostics and vehicle readiness capabilities. This unique system enables maintenance teams to remotely check vehicle fault codes, receive maintenance reminders, maintenance alerts, and other data from a smart phone or similar device.
"The technologies and interactive displays showcased at our booth are engaging and informative, and represent the ARFF industry's most comprehensive approach to aircraft emergency response," added Resch. "We are looking forward to an excellent conference and exhibition."
Photo caption: Oshkosh Airport Products will showcase a portfolio of new technologies at the 2017 ARFF Working Group (ARFFWG) Annual Educational Conference & Training Symposium. Technologies on display will include the Oshkosh® Striker® Simulator virtual reality training system similar to the one shown here.
About Oshkosh Airport Products
Oshkosh Airport Products, LLC, a division of Oshkosh Corporation, is a designer and builder of industry-leading airport firefighting and snow removal vehicles. Its flagship Striker® Aircraft Rescue and Fire Fighting (ARFF) vehicle and Oshkosh® H-Series™ snow removal chassis are known for their durability and superior performance and sold throughout the world. For more information, visit www.oshkoshairport.com.
About Oshkosh Corporation
Founded in 1917, Oshkosh Corporation is 100 years strong and continues to make a difference in people's lives. Oshkosh brings together a unique set of integrated capabilities and diverse end markets that, when combined with the Company's MOVE strategy and positive long-term outlook, illustrate why Oshkosh is a different integrated global industrial. The Company is a leader in designing, manufacturing and servicing a broad range of access equipment, commercial, fire & emergency, military and specialty vehicles and vehicle bodies under the brands of Oshkosh®, JLG®, Pierce®, McNeilus®, Jerr-Dan®, Frontline™, CON-E-CO®, London® and IMT®.
Today, Oshkosh Corporation is a Fortune 500 Company with manufacturing operations on four continents. Its products are recognized around the world for quality, durability and innovation, and can be found in more than 150 countries around the globe. As a different integrated global industrial, Oshkosh is committed to making a difference for team members, customers, shareholders, communities and the environment. For more information, please visit www.oshkoshcorporation.com.
®, ™ All brand names referred to in this news release are trademarks of Oshkosh Corporation or its subsidiary companies.
Forward-Looking Statements
This press release contains statements that the Company believes to be "forward-looking statements" within the meaning of the Private Securities Litigation Reform Act of 1995. All statements other than statements of historical fact, including, without limitation, statements regarding the Company's future financial position, business strategy, targets, projected sales, costs, earnings, capital expenditures, debt levels and cash flows, and plans and objectives of management for future operations, are forward-looking statements. When used in this presentation, words such as "may," "will," "expect," "intend," "estimate," "anticipate," "believe," "should," "project" or "plan" or the negative thereof or variations thereon or similar terminology are generally intended to identify forward-looking statements. These forward-looking statements are not guarantees of future performance and are subject to risks, uncertainties, assumptions and other factors, some of which are beyond the Company's control, which could cause actual results to differ materially from those expressed or implied by such forward-looking statements.
# # #