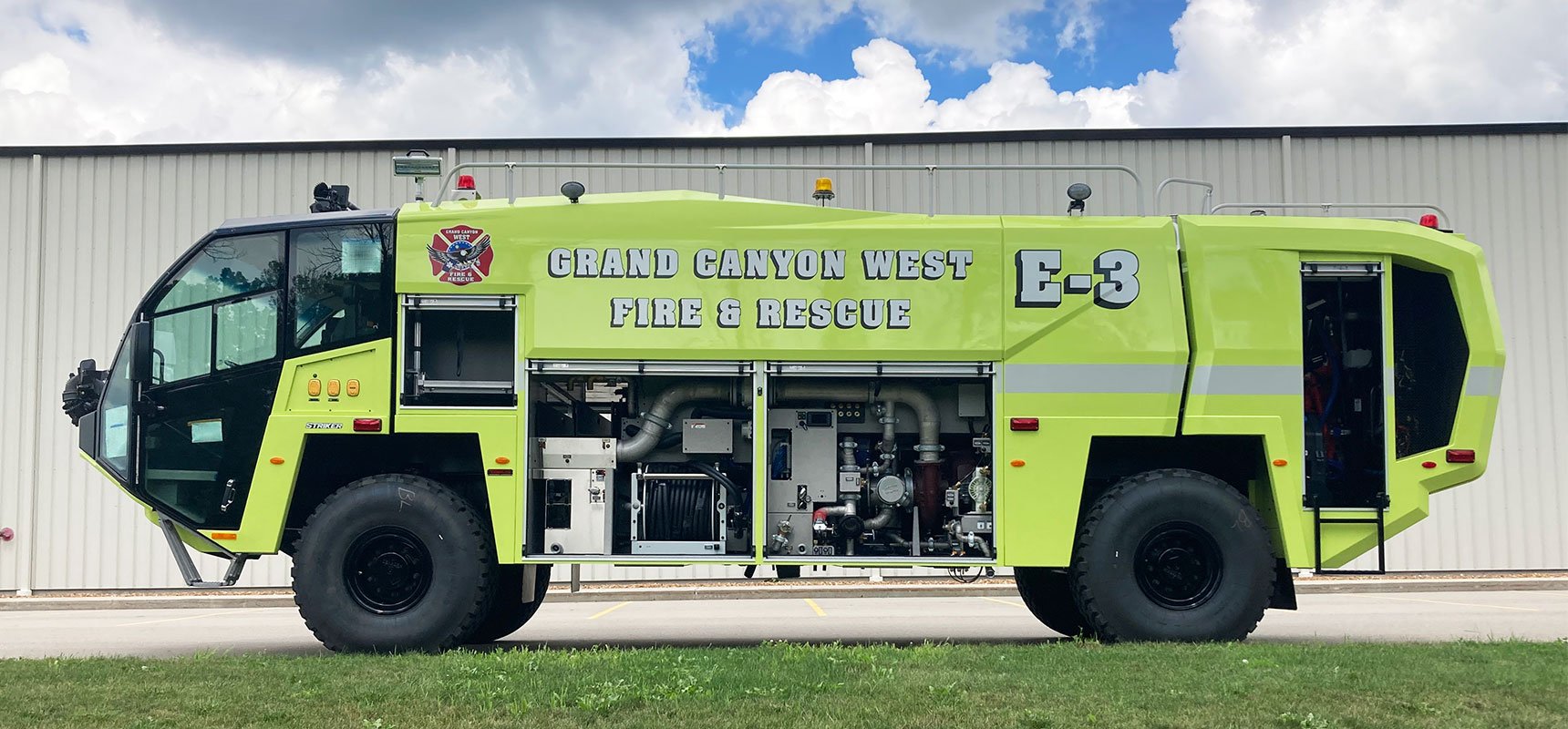 The new 4x4 ARFF vehicle represents the first Oshkosh Airport Products apparatus in Grand Canyon West Airport's fleet.

APPLETON, WIS. (February 22, 2023) – Oshkosh Airport Products, a division of Pierce Manufacturing Inc., and a subsidiary of Oshkosh Corporation (NYSE: OSK), announced Grand Canyon West Airport, located northwest of Peach Springs in Mohave County, Arizona, has taken delivery of its first Oshkosh® Airport Products Striker® 4x4 ARFF vehicle. The vehicle will support emergency operations at the airport, which is owned and operated by the Hualapai tribe and situated on the Hualapai Indian Reservation.

"We evaluated three different ARFF apparatus, and the Striker offered the features we liked best, with a strong reputation for quality and longevity," said Rick Carlson, CEP ARFF airport operations manager with the Grand Canyon Resort Corporation. "The ease of access to the engine compartment for maintenance is also a key attribute which will allow our team to competently maintain the proper service protocols to ensure the vehicle remains a valuable resource for many years to come."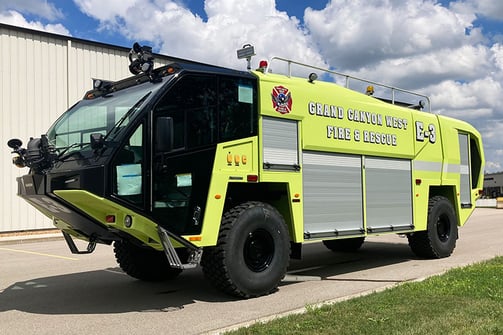 Features of Grand Canyon West Airport's Striker 4x4 ARFF vehicle:
Scania V8 670 hp Tier 4F engine
Water capacity: 1,500 gallons (5,678 liters)
Foam capacity: 220 gallons (757 liters)
Dry chemical capacity: 550 pounds (250 kg)
Oshkosh TAK-4® independent suspension
Acceleration of 0-50 mph (0-80 kmh) in under 25 seconds
Hydrochem roof turret: 375/750 gpm
Bumper turret: 375/750 gpm
Dual agent hose reel
Oshkosh Eco-EFP™ foam testing system
On board generator
Carlson added, "I've been in the fire service for over 20 years and understand many ARFF vehicles are very different from one another. When you sit in the pilot seat of the Striker 4x4, the cab functionality and operator experience are exceptional. I can confidently say the vehicle is very easy to operate. Our crew also appreciates the Eco EFP foam system so we can facilitate all of our necessary testing without deploying foam on the ground."

Located on the west rim of the Grand Canyon, Grand Canyon West Airport covers 350 acres of land on the Hualapai Indian Reservation and is 60 miles northwest of Peach Springs, Arizona. With approximately 150,000 commercial passenger boardings annually, a common destination for travelers is Las Vegas – located 120 miles northwest.

"We've appreciated having the opportunity to work collaboratively with the Grand Canyon West Airport ARFF operations team to analyze their unique needs and help select the most advanced emergency apparatus to best support each critical mission they may encounter," said Jack Bermingham, Business Unit Director for Oshkosh Airport Products. "Our team looks forward to continuing to build our relationship and providing dedicated training and service support in the years ahead."

To learn more about Oshkosh Airport Products and Grand Canyon West Airport's new Striker 4x4 ARFF vehicle, visit www.oshkoshairport.com.