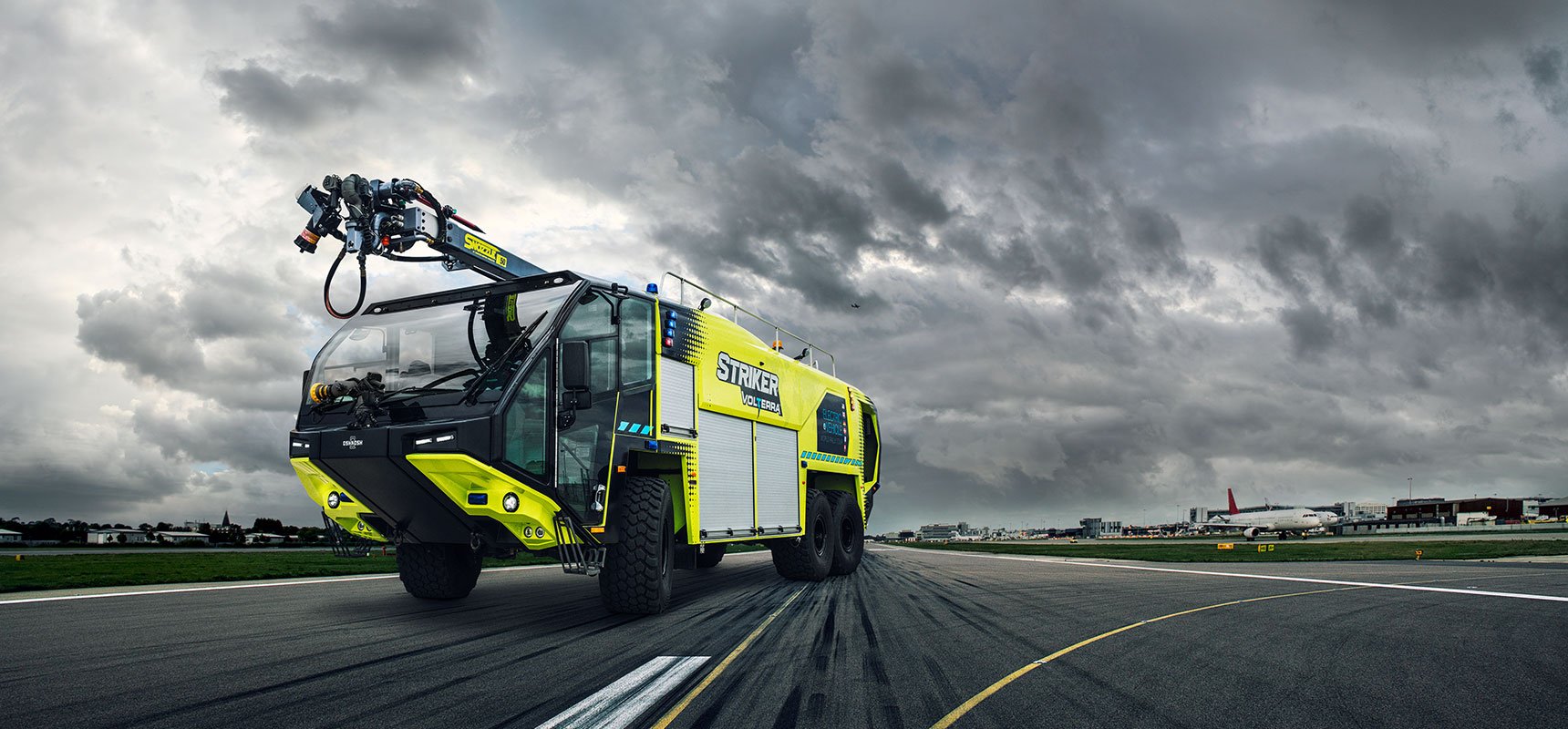 The DFW Airport Fire Department commits to environmental leadership and support for advanced sustainable airport operations with the purchase of a fleet of Striker Volterra ARFF hybrid electric vehicles.

APPLETON, WIS. (September 25, 2023) – Oshkosh Airport Products, a division of Pierce Manufacturing Inc., a subsidiary of Oshkosh Corporation (NYSE: OSK), announces Dallas Fort Worth International Airport (DFW) has issued a purchase order for six Striker® Volterra™ 6x6 Aircraft Rescue and Fire Fighting (ARFF) hybrid electric vehicles. Sold through Siddons-Martin Emergency Group, this purchase amplifies the airport's eco-friendly initiatives currently underway and allows the DFW Airport Fire Department to upgrade its full Oshkosh Airport Products fleet.

Currently operating (eight) Striker 8x8s, the DFW Airport Fire Department is now transitioning to an optimized fleet of (six) Striker Volterra 6x6s complemented by (two) Striker 6X6s each with a Snozzle® High Reach Extendable Turret (HRET), and (two) Striker 4x4 rapid intervention trucks. A key motive behind this significant fleet revamp is the new foam standards, combined with the FAA's fluorine-free aircraft firefighting foam transition plan. The airport's forward-thinking decision ensures consistent fleet capability, mitigating the complexities of operating vehicles with differing foam types.

Daniel White, Chief of the DFW Airport Fire Department, explained, "Our choice to transition to the new Striker Volterra ARFF hinges on performance. These vehicles are faster, more agile, and quieter as compared to our current fleet, benefiting from both carbon and diesel savings. While our commitment to supporting the goal of net-zero emissions remains robust, functionality and safety of our personnel remain paramount."

The Striker Volterra 6x6 comes equipped with an Oshkosh-patented hybrid-electric drivetrain, featuring an electro-mechanical infinitely variable transmission. This enables zero-emissions operation through the integrated onboard batteries and uninterrupted power supply by coupling with the internal combustion engine for pumping and drive systems.

DFW Airport Fire Department's new Striker Volterra ARFF vehicles will feature:
Acceleration from 0 – 50 mph (0 to 80 kph) in under 25 seconds - a 28 percent improved acceleration compared to standard diesel Striker models when fully loaded
TAK-4® all-wheel independent suspension
High-pressure fire extinguishing reel, tailored for challenging aircraft zones such as galleys or cargo holds - developed by EJ Metals in conjunction with Oshkosh Airport Products, this advanced system provides precise and efficient fire suppression
3,000-gallon (11,356-liter) water tank
420-gallon (1,590-liter) foam tank
2,000 gpm (7,570 lpm) water pump
500 lb. (250 kg) dry chemical powder system
Addressing potential challenges with charging infrastructure, Chief White said, "Our ARFF stations will soon undergo modernization. While the Striker Volterra ARFF vehicles come with onboard chargers, we're ensuring sufficient power delivery. Our new stations will be future-proofed with 480v power service, offering adaptability for evolving charging needs."

The DFW Airport Fire Department helps to oversee the safety of more than 70 million airline passengers per year, with more than 180 officers focused on aircraft rescue training, fire prevention, emergency medical services, and structural fire-rescue response.

"Integrating the Striker Volterra ARFF hybrid electric vehicles into its operations is an instrumental way the DFW Airport Fire Department demonstrates global leadership in green airport operations and sets the standard for ARFF emergency response in the 21st century," said Travis Ownby, sales specialist with Siddons-Martin Emergency Group. "We look forward to our continued partnership in delivering exceptional training, streamlined deployment, and steadfast service commitment. Our aim is to guarantee the Striker Volterra ARFF vehicles not only meet, but surpass the rigorous demands of the DFW Airport Fire Department and all modern firefighting teams."

To learn more about Oshkosh Airport Products and the Striker Volterra ARFF hybrid electric vehicle, visit www.oshkoshairport.com.