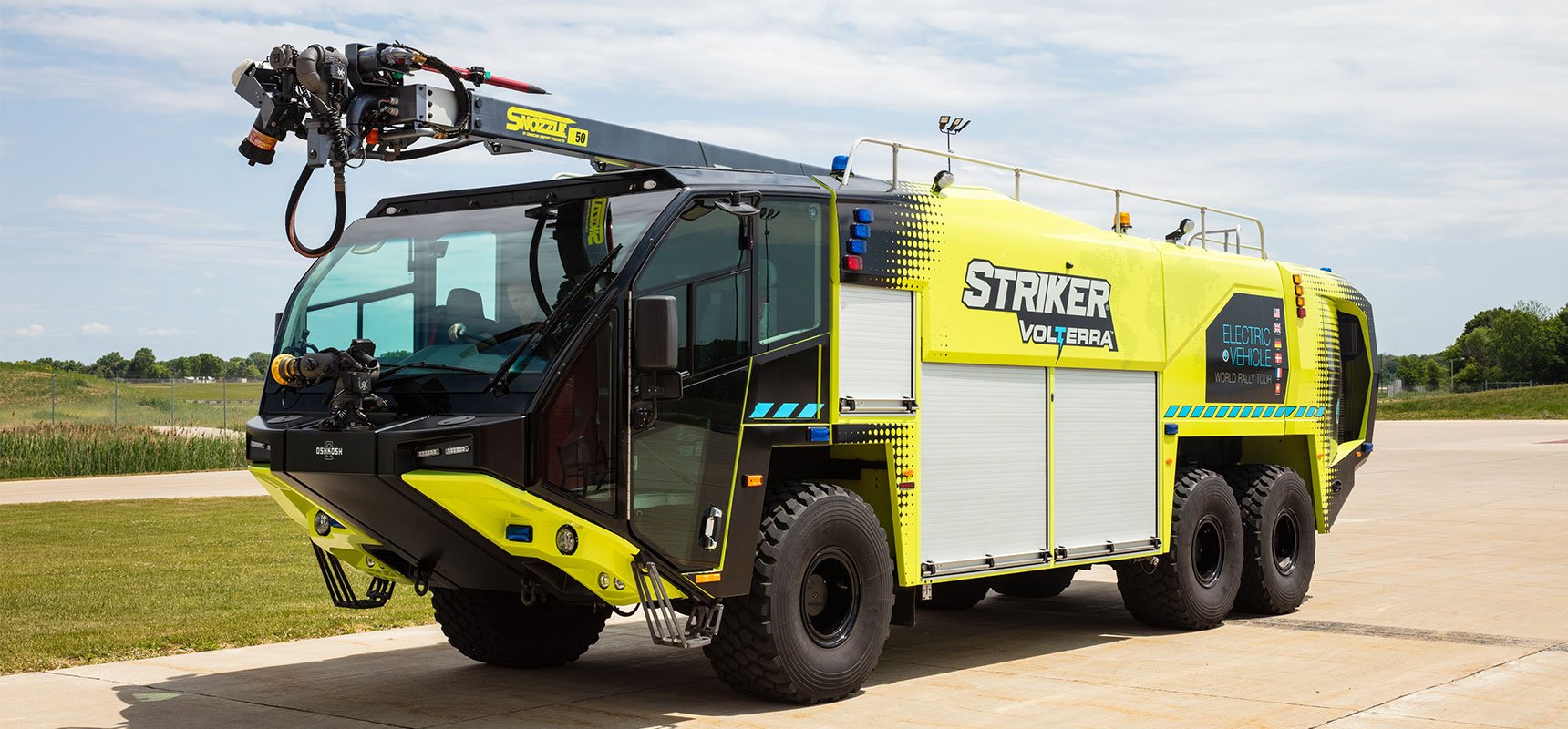 King County International Airport-Boeing Field, Washington will be the first in the nation to receive a Striker Volterra 6x6 ARFF hybrid electric vehicle.

APPLETON, WIS. (June 22, 2023) – Oshkosh Airport Products, a division of Pierce Manufacturing Inc., a subsidiary of Oshkosh Corporation (NYSE: OSK), proudly announces King County International Airport-Boeing Field (KCIA) has signed a purchase agreement for the revolutionary Striker® Volterra™ 6x6 Aircraft Rescue and Fire Fighting (ARFF) hybrid electric vehicle. KCIA will be the first airport in the nation to receive this environmentally advanced fire engine, adding to its existing Oshkosh Airport Products fleet and allowing for the retirement of aging fire apparatus.

Leveraging Oshkosh Corporation's cutting-edge proprietary technology, the Striker Volterra ARFF hybrid electric vehicle meets the critical emergency response requirements of airports while aligning with environmental sustainability goals. The Striker Volterra 6x6 comes equipped with an Oshkosh patented hybrid-electric drivetrain, featuring an electro-mechanical infinitely variable transmission. This enables zero-emissions operation through integrated onboard batteries and uninterrupted power supply by coupling with the internal combustion engine for pumping and drive systems.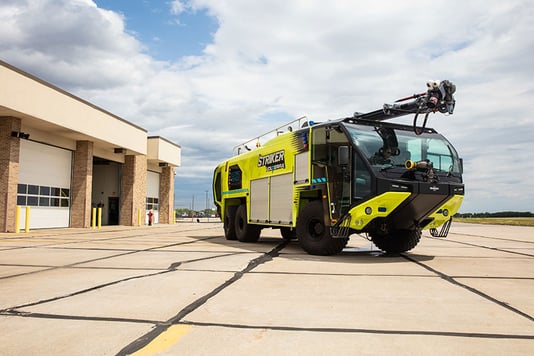 "Climate change is an urgent global crisis that requires us all to do our part, in ways large and small, to shrink our carbon footprint," said King County Executive Dow Constantine. "We are operating a major international airport, and this first-of-its-kind hybrid fire truck is another way we are leading the way on reducing both carbon emissions and the harms to communities most impacted by ambient pollution."

KCIA's new Striker Volterra 6x6 will feature an industry-leading modular cab design, TAK-4® all-wheel independent suspension, and a 50' Snozzle® High Reach Extendable Turret. With a seating capacity for four, it's powered by a Scania DC13 engine coupled with an Oshkosh power divider. It houses a 3,000-gallon water tank, 420-gallon foam tank, and a 2,000 gpm water pump, along with a 550 lb. dry chemical powder system. Accelerating from 0 to 50 mph in under 25 seconds, the Striker Volterra demonstrates a 28 percent improved acceleration compared to standard diesel models when fully loaded.

"We are thrilled to lead the way in bringing the Striker Volterra ARFF vehicle to KCIA," said John Parrott, Director of KCIA. "The advanced performance and environmental benefits this hybrid electric vehicle offers are unparalleled. It's a significant investment in our climate goals and vision of a world-class airport."

KCIA is one of the nation's busiest primary non-hub airports averaging 180,000 takeoffs and landings each year. Located just four miles south of downtown Seattle and close to other business centers, many airport travelers include celebrities, dignitaries, and sports teams. KCIA emergency personnel hold unique combined roles by maintaining certification and training as commissioned police officers, Washington State Firefighter I and II certifications and ARFF training, and Emergency Medical Technician certification – with all performing aircraft rescue and firefighting, law enforcement, and airport safety inspections. The airport is expected to take delivery of its new Striker Volterra ARFF in mid-2024.

Jack Bermingham, Business Unit Director for Oshkosh Airport Products, added, "The Striker Volterra ARFF is tailored to provide operational excellence without compromising on environmental values. We are confident KCIA will reap the benefits of reduced fuel consumption and emissions, while ensuring top-tier safety, reliability and the same leading-edge attributes customers have come to expect from all Striker fire apparatus."

To learn more about Oshkosh Airport Products and the Striker Volterra ARFF hybrid electric vehicle, visit www.oshkoshairport.com.