Portfolio of exciting and innovative ARFF vehicle technologies also being unveiled on April 27th
OSHKOSH, WIS. (April 25, 2017) – Oshkosh Airport Products, LLC, an Oshkosh Corporation (NYSE: OSK) company, is introducing its all-new Oshkosh® Striker® 8 X 8 aircraft rescue and fire fighting (ARFF) vehicle on April 27 at the 2017 Fire Department Instructors Conference (FDIC) in Indianapolis, Ind. Oshkosh will also introduce several new technologies now available on all Striker ARFF vehicle models.
"With the help of a robust in-house R & D team and in-depth customer focus groups that go back more than two full years, we've diligently developed the new Oshkosh Striker 8 X 8 – and the fruits of those labors will be introduced to the fire industry in a few days," said Jeff Resch, Oshkosh Airport Products Vice President and General Manager. "In addition, the innovative technologies we're introducing represent a major step forward for ARFF response. We are excited to showcase these major advancements during Oshkosh's 100 Year Anniversary!"
POWERFUL AND INTEGRATED DESIGN
The Striker 8 X 8 is the most capable and powerful ARFF vehicle in the company's history. The vehicle's driving force is an identical pair of Scania rear-mounted, Tier 4F low-emission engines that deliver 1,540 total horsepower. The vehicle also features a selection of proprietary Oshkosh components, including Oshkosh TAK-4® fully independent suspension, transfer case, power uniter, and other chassis components. The new power uniter, developed specifically for this vehicle, enables the pump to be engaged at any vehicle speed.
The operator-friendly cab is virtually interchangeable with the current Striker 4 X 4 and Striker 6 X 6 models, offering parts commonality and simplified driver training for airport operations. The firefighting system features a range of water tank capacity choices, up to 17,033-liters (4,500-gallon). A range of state-of-the-art pumps, foam systems, dry chemical systems and clean agent are available for unmatched firefighting response, as is the Oshkosh exclusive Snozzle® high reach extendable turret (HRET) that enables firefighters to discharge from 1.5 meters (5 feet) below grade to elevations as high as 19.8 meters (65 feet).
NEW TECHNOLOGIES UNVEILED
Among the many all-new technologies available on the Striker line, and introduced for the first time at FDIC, is a 360-degree view "around-the-vehicle" camera system that provides unparalleled operator visibility. The system is similar to ones found on high-end automobiles and SUVs, with video feeds to a large 10-inch monitor located inside the cab.
Another new technology available on the Striker is the Telematics system, a two-pronged remote diagnostics and vehicle readiness mobile device app. One aspect of the Telematics system enables maintenance teams to remotely check vehicle fault codes, receive maintenance reminders, maintenance alerts, and other data from a smart phone or other remote device. The second aspect of the system, geared for ARFF chiefs, enables the chief to monitor the readiness status of their Striker vehicle. It reports on fuel levels, water and foam systems level, and other key preparedness factors – from any location – to ensure the vehicle is ready to respond to any emergency.
Also new is the Eco EFP foam percentage test system, a patent-pending electronic foam proportioning system that allows ARFF crews to test the foam percentages from every discharge using only water from the vehicle; no foam is required. It is unnecessary to discharge foam onto the ground to determine if the system is within required tolerances. The system measures both the solution and foam flows on the vehicle to ensure accurate reporting of foam concentrate percentages. It will, moreover, archive the testing data (with a time and date stamp) on the truck for three years. Uniquely, the entire Eco EFP system is carried and fully contained on the vehicle.
Finally, the K-Factor system is a patent-pending piercing tip alignment tool for the Snozzle HRET. This new system uses a sensor on the piercing tip while a display screen inside the cab helps the operator position the piercing tip onto the fuselage at the optimal angle to avoid the problem of loss of depth perception. In effect, this new system – to enhance performance – provides a target for the operator.
"We've taken the opportunity to introduce several significant new advances on the FDIC show truck," said Jason Shively, Oshkosh Airport Products Director of Engineering. "All of these are now available on the entire Striker vehicle line, and each demonstrates our mission to drive the industry forward."
The display vehicle even features a full body wrap vinyl graphic, a new option that enables airports to more easily and dramatically make a statement about the newest member of their ARFF fleet. "The graphics package is simply stunning, and will be easy to spot from anywhere inside Lucas Oil Stadium," added Resch. "Be sure to stop by to see the new Striker 8 X 8 for a personal walk around tour."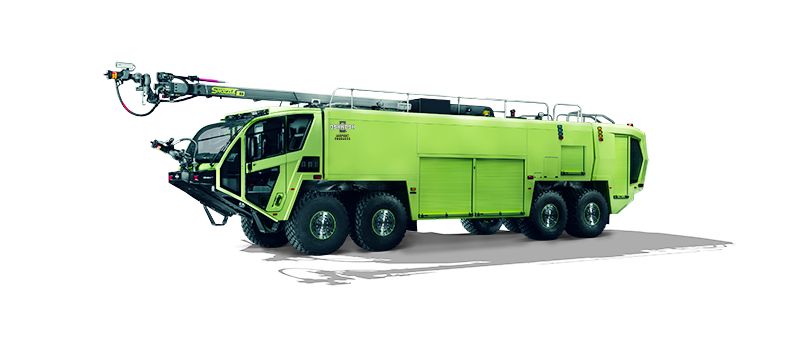 Photo caption: Oshkosh Airport Products will introduce the all-new Oshkosh® Striker® 8 X 8 aircraft rescue and fire fighting (ARFF) vehicle on April 27th at the 2017 Fire Department Instructors Conference (FDIC) in Indianapolis, Ind. Oshkosh will also introduce several new technologies now available on all Striker ARFF vehicle models.
About Oshkosh Airport Products
Oshkosh Airport Products, LLC, a division of Oshkosh Corporation (NYSE: OSK), is a designer and builder of industry-leading airport firefighting and snow removal vehicles. Its flagship Striker® Aircraft Rescue and Fire Fighting (ARFF) vehicle and Oshkosh® H-Series™ snow removal chassis are known for their durability and superior performance and sold throughout the world. For more information, visit www.oshkoshairport.com.
About Oshkosh Corporation
Founded in 1917, Oshkosh Corporation is 100 years strong and continues to make a difference in people's lives. Oshkosh brings together a unique set of integrated capabilities and diverse end markets that, when combined with the Company's MOVE strategy and positive long-term outlook, illustrate why Oshkosh is a different integrated global industrial. The Company is a leader in designing, manufacturing and servicing a broad range of access equipment, commercial, fire & emergency, military and specialty vehicles and vehicle bodies under the brands of Oshkosh®, JLG®, Pierce®, McNeilus®, Jerr-Dan®, Frontline™, CON-E-CO®, London® and IMT®.
Today, Oshkosh Corporation is a Fortune 500 Company with manufacturing operations on four continents, and its products, recognized around the world for quality, durability and innovation, can be found in more than 150 countries around the globe. As a different integrated global industrial, Oshkosh is committed to making a difference for team members, customers, shareholders, communities and the environment. For more information, please visit www.oshkoshcorporation.com.
®, ™ All brand names referred to in this news release are trademarks of Oshkosh Corporation or its subsidiary companies.
Forward Looking Statements
This news release contains statements that the Company believes to be "forward-looking statements" within the meaning of the Private Securities Litigation Reform Act of 1995. All statements other than statements of historical fact, including, without limitation, statements regarding the Company's future financial position, business strategy, targets, projected sales, costs, earnings, capital expenditures, debt levels and cash flows, and plans and objectives of management for future operations, are forward-looking statements. When used in this news release, words such as "may," "will," "expect," "intend," "estimate," "anticipate," "believe," "should," "project" or "plan" or the negative thereof or variations thereon or similar terminology are generally intended to identify forward-looking statements.
# # #