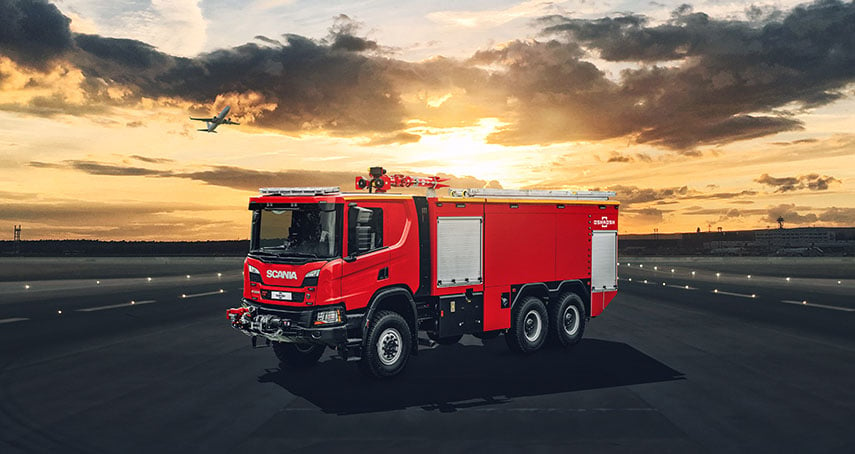 Oshkosh Airport Products today introduced a new, uncompromising and European-designed commercial ARFF vehicle at the 22nd International Exhibition for Airport Equipment, Technology, Design and Services (inter airport Europe 2019).
OSHKOSH, WIS. (October 8, 2019) – Oshkosh Airport Products, LLC, an Oshkosh Corporation (NYSE: OSK) Company, announced today that the company has introduced a new commercial ARFF vehicle, Oshkosh ARV, at the 22nd International Exhibition for Airport Equipment, Technology, Design and Services (inter airport Europe 2019). The all-new Oshkosh ARV is backed by the 24-hours-a-day, seven-days-a-week global support of Oshkosh Corporation and a world-class regional dealer network. Additionally, the vehicle has been thoroughly tested to all International Civil Aviation Organization (ICAO) requirements to ensure the best value in the commercial ARFF category, and frontline readiness for airports around the world. Built on a European chassis, the Oshkosh ARV offers an accelerated lead time and is homologated to countries around the world.
"After gathering feedback and considering the needs of airport fire service departments around the world, we are thrilled to introduce a product that will exceed expectations with the reliable, robust, and efficient features of the new Oshkosh ARV," said Erik Lampe, vice president and general manager of Oshkosh Airport Products. "This new ARFF vehicle is complementary to the Oshkosh Striker®, backed by the global Oshkosh sales and service team, and held to our organization's quality, design, and manufacturing standards."
The first Oshkosh ARV is featured on a P 500 B 6x6 HZ Scania chassis. Other features of the Oshkosh ARV include:
Advanced fire suppression features
Scania® DC 13 Euro 6 Engine
Allison® transmission
0-80 kmh below 40 seconds
A top speed of: 100 kmh
Around-the-pump foam proportioning
Fiberglass water tank
IDEX Corporation roof and bumper monitor options
Extruded aluminum body
Innovative equipment mounting solutions
"Oshkosh ARFF products set a benchmark for performance in the industry, and we are committed to not only taking our airport rescue vehicle options and features a step further, but also making them easily available on a global scale," said Lampe. "The new Oshkosh ARV is ideal for customers that want the value and performance of a commercial ARFF to meet ICAO requirements, with attributes including superior fire suppression, control, safety, and versatility in maximizing response."
The Oshkosh ARV has been unveiled and will be on display at Scania's outdoor stand B70 at inter airport Europe 2019 from Tuesday, October 8 – Friday, October 11. During the event, attendees are welcome to view and interact with the vehicle, as well as learn more from Oshkosh Airport Products' representatives.
To learn more about Oshkosh Airport Products and the new Oshkosh ARV, visit www.oshkoshairport.com.