OSHKOSH STRIKER 6 X 6 DELIVERED TO PHOENIX SKY HARBOR INTERNATIONAL; JOINS ALL-OSHKOSH ARFF FLEET
OSHKOSH, WIS.(December 11, 2012) – Oshkosh Airport Products Group, a division of Oshkosh Corporation (NYSE: OSK), placed an Oshkosh® Striker® 6 x 6 Aircraft Rescue and Fire Fighting (ARFF) vehicle into service at the Phoenix Sky Harbor International Airport (PHX). The Striker will join a pair of Striker 8 x 8 vehicles already on frontline duty.
"When we started this process, we looked at several different ARFF trucks at trade shows – and we have owned various brands throughout the years – but our team liked the Striker best," said Elizabeth Hendel, Phoenix Fire Department Deputy Fire Chief, ARFF. "Our firefighters like the roomy cab and having all controls within easy reach, as well as the firefighting systems and structural firefighting package for mop-up operations."
The Striker 6 X 6 model is equipped with proprietary technologies such as Oshkosh TAK-4® independent suspension, triple agent firefighting capabilities and Command Zone™ advanced electronics for enhanced maneuverability, firefighting power and reliability. The new PHX Striker features the Oshkosh Snozzle high reach extendable turret (HRET), forward looking infrared camera for enhanced visibility, and a structural firefighting package with easy to reach crosslays.
"One of the biggest complaints, when I got to this position several years ago, was that our [prior] ARFF fleet wasn't keeping up with the time," said Chief Hendel. "Most of the trucks were in the shop, we couldn't get them quickly repaired, and it was costing too much money to keep that fleet in service. The city's fleet management team and mechanics like Oshkosh's service and support after the sale. That's really critical."
"We understand the importance of delivering top notch products as well as 24/7 support after the sale," said Jeff Resch, Oshkosh Corporation Airport Products vice president and general manager. "Without both, you can't be successful in this business over the long term. And we are fully committed to our customers."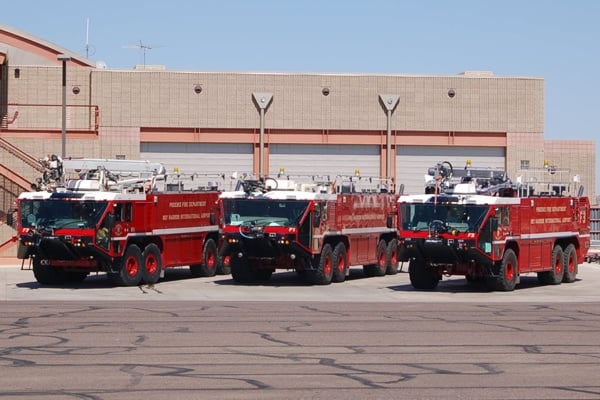 Photo caption: The Oshkosh® Striker® 6 x 6 (right) is the newest member of the Phoenix Sky Harbor International ARFF team, and is shown alongside a pair of Striker 8 x 8 vehicles.
About Oshkosh Airport Products
The Oshkosh Airport Group, a division of Oshkosh Corporation, is a designer and builder of industry-leading airport firefighting and snow removal vehicles. Its flagship Striker® Aircraft Rescue and Fire Fighting (ARFF) vehicle is on duty at some of the largest airports in the world, including Anchorage International, Chicago O'Hare International, Las Vegas International, Dallas-Fort Worth International, Dubai World Central, Beijing Capital International and Phoenix International. For more information, visit www.oshkoshairport.com. About Oshkosh Corporation Oshkosh Corporation is a leading designer, manufacturer and marketer of a broad range of specialty access equipment, commercial, fire & emergency and military vehicles and vehicle bodies. Oshkosh Corporation manufactures, distributes and services products under the brands of Oshkosh®, JLG®, Pierce®, McNeilus®, Jerr-Dan®, Oshkosh Specialty Vehicles, Frontline™, CON-E-CO®, London® and IMT®. Oshkosh products are valued worldwide in businesses where high quality, superior performance, rugged reliability and long-term value are paramount. For more information, please visit www.oshkoshcorporation.com.
®, TM All brand names referred to in this news release are trademarks of Oshkosh Corporation or its subsidiary companies.
FORWARD-LOOKING STATEMENTS
This press release contains statements that the Company believes to be "forward-looking statements" within the meaning of the Private Securities Litigation Reform Act of 1995. All statements other than statements of historical fact, including, without limitation, statements regarding the Company's future financial position, business strategy, targets, projected sales, costs, earnings, capital expenditures, debt levels and cash flows, and plans and objectives of management for future operations, are forward-looking statements. When used in this press release, words such as "may," "will," "expect," "intend," "estimate," "anticipate," "believe," "should," "project" or "plan" or the negative thereof or variations thereon or similar terminology are generally intended to identify forward-looking statements. These forward-looking statements are not guarantees of future performance and are subject to risks, uncertainties, assumptions and other factors, some of which are beyond the Company's control, which could cause actual results to differ materially from those expressed or implied by such forward-looking statements. These factors include the cyclical nature of the Company's access equipment, commercial and fire & emergency markets, especially in the current environment where there are conflicting signs regarding the future global economic outlook; the expected level and timing of the U.S. Department of Defense (DoD) procurement of products and services and funding thereof; risks related to reductions in government expenditures in light of U.S. defense budget pressures and an uncertain DoD tactical wheeled vehicle strategy; the ability to increase prices to raise margins or offset higher input costs; increasing commodity and other raw material costs, particularly in a sustained economic recovery; risks related to the Company's exit from its ambulance business, including the amounts of related costs and charges; risks related to facilities consolidation and alignment, including the amounts of related costs and charges and that anticipated cost savings may not be achieved; the duration of the ongoing global economic weakness, which could lead to additional impairment charges related to many of the Company's intangible assets and/or a slower recovery in the Company's cyclical businesses than Company or equity market expectations; the potential for the U.S. government to competitively bid the Company's Army and Marine Corps contracts; risks related to the collectability of receivables, particularly for those businesses with exposure to construction markets; the cost of any warranty campaigns related to the Company's products; risks related to production or shipment delays arising from quality or production issues; risks associated with international operations and sales, including foreign currency fluctuations and compliance with the Foreign Corrupt Practices Act; risks related to actions of activist shareholders, including the amount of related costs; the Company's ability to successfully execute on its strategic road map and meet its long-term financial goals; risks and uncertainties associated with the pending tender offer for the Company's shares, the outcome of any litigation related to the offer or any other offer or proposal, and the Board's recommendation to the shareholders concerning the offer or any other offer or proposal. Additional information concerning these and other factors is contained in the Company's filings with the Securities and Exchange Commission, including the Form 8-K. All forward-looking statements speak only as of the date of this press release. The Company assumes no obligation, and disclaims any obligation, to update information contained in this press release. Investors should be aware that the Company may not update such information until the Company's next quarterly earnings conference call, if at all.