OSHKOSH STRIKER 8 X 8 ON DUTY AT MINING AND PROCESSING SITE FOR CANADA'S LARGEST IRON ORE PRODUCER
Striker built to quickly, effectively, and safely respond to mine emergencies.
OSHKOSH, WIS. (January 17, 2013) – Oshkosh Airport Products Group, a division of Oshkosh Corporation (NYSE: OSK), placed an Oshkosh® Striker® 8 x 8 Aircraft Rescue and Fire Fighting (ARFF) vehicle into service with the Iron Ore Company of Canada (IOC) – Canada's largest iron ore producer– at its facilities in Labrador City, Newfoundland and Labrador. The Striker's large water capacity, combined with its unmatched maneuverability and prowess in operating at heights in and around the mining operations, make it uniquely qualified for this application.
"With the Oshkosh Striker, we're blazing a new trail," said Jamie Stagg, IOC Superintendent, Emergency Services and Security. "Our engineering team evaluated a wide range of traditional fire apparatus, including aerial ladders and platforms that can operate at heights. But when we reviewed our number one fire protection priority – the mine site itself (with its rugged road and no water supply) – we decided to go with the Striker."
The Oshkosh Striker is built to perform under extreme conditions, and is equipped with proprietary technologies such as the Oshkosh TAK-4® independent suspension system, triple agent firefighting capabilities and Command Zone™ advanced electronics for enhanced maneuverability, firefighting power and reliability. The Striker on duty in Labrador City features a 4,500-gallon water tank, a Snozzle® high reach extendable turret (HRET), a foam system, a dry chemical system, a structural firefighting package (with pre-connected hand lines), and a robust winterization system for temperatures that can plummet to minus 40º F.
The Oshkosh Striker also features the Eagle Eye™ Driver's Enhanced Vision System (DEVS) that combines a moving map display with an infrared thermal imager for enhanced visibility and situational awareness in poor conditions. In addition, the Eagle Eye system (with its wireless data link) allows for critical information exchange – in real time – between the Striker's crew and command center for heightened communications during an emergency.
"Around our processing plants, the roads are paved and have accessible fire hydrants – but then you transition to eight kilometers of gravel roads to reach the mine site," said Stagg. "In the springtime, when the winter snows thaw, those gravel roads in and around the mine can be slippery and difficult to navigate. With rough terrain and 320-ton haul trucks the size of airplanes, the Snozzle will allow us to quickly respond to any type of emergency while keeping our Emergency Services & Security team out of the line of fire. That's why we believe the Striker is the ideal truck for our application."
"The Oshkosh Striker platform has proven itself, time and again, under the most demanding conditions, and we're very excited to have it begin a new mining facility application with the Iron Ore Company of Canada," said Jeff Resch, Oshkosh Corporation Airport Products vice president and general manager. "This was a true team effort with our sales management and an excellent dealer, Team Eagle."
IOC is a leading Canadian producer of iron ore concentrate and iron ore pellets serving customers worldwide. The Company operates a mine, concentrator and a pelletizing plant in Labrador City, Newfoundland and Labrador, as well as port facilities located in Sept-Îles, in the Province of Quebec. It also operates a 418-kilometer railroad that links the mine to the port. IOC has 2200 employees and its major shareholder and operator is the international mining group Rio Tinto, which has activities in more than 40 countries throughout the world. For more information on the Iron Ore Company of Canada please visit www.ironore.ca.
Oshkosh Airport Products dealer Team Eagle Ltd. of Campbellford, Ontario provides local service and support.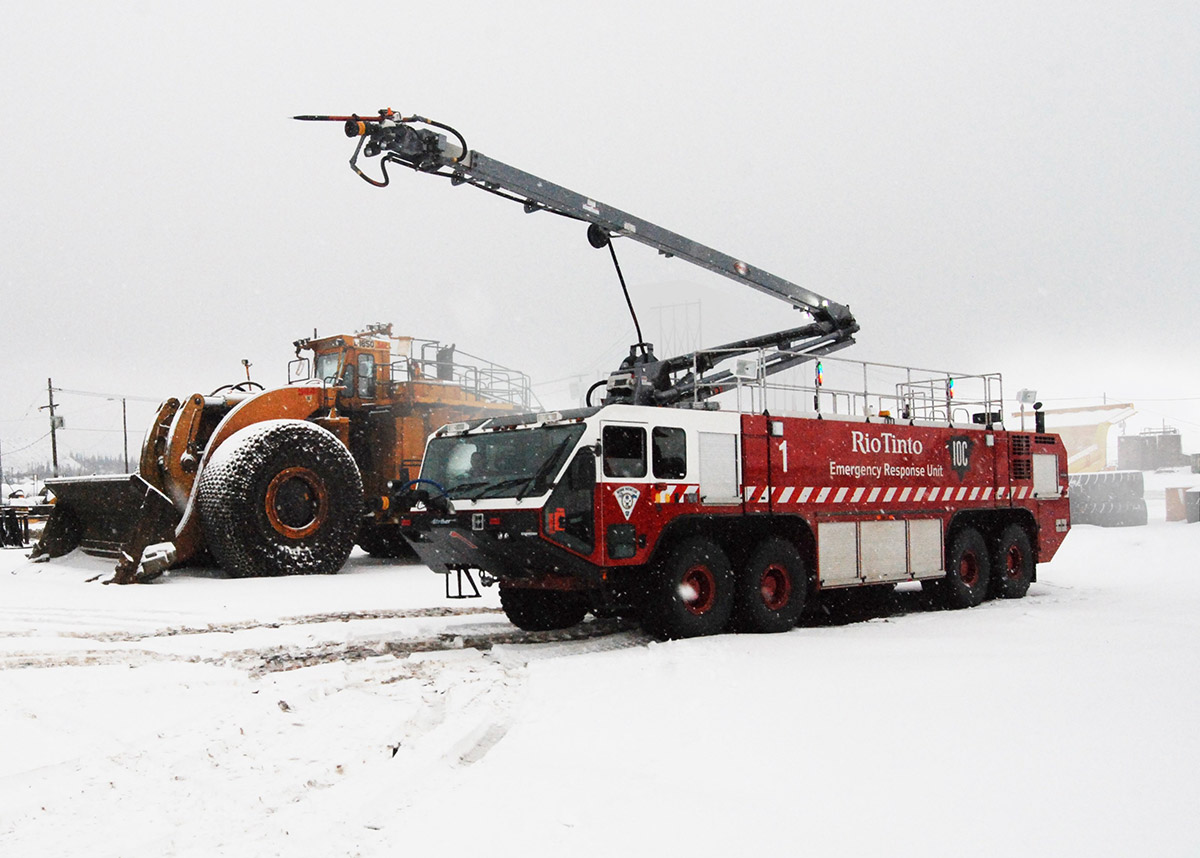 Photo caption: This Oshkosh® Striker® 8 x 8 is in service at the Iron Ore Company of Canada in Labrador City.
About Oshkosh Airport Products
The Oshkosh Airport Group, a division of Oshkosh Corporation, is a designer and builder of industry-leading airport firefighting and snow removal vehicles. Its flagship Striker® Aircraft Rescue and Fire Fighting (ARFF) vehicle is on duty at some of the largest airports in the world, including Anchorage International, Chicago O'Hare International, Las Vegas International, Dallas-Fort Worth International, Dubai World Central, Beijing Capital International and Phoenix International. For more information, visit www.oshkoshairport.com.
About Oshkosh Corporation
Oshkosh Corporation is a leading designer, manufacturer and marketer of a broad range of specialty access equipment, commercial, fire & emergency and military vehicles and vehicle bodies. Oshkosh Corporation manufactures, distributes and services products under the brands of Oshkosh®, JLG®, Pierce®, McNeilus®, Jerr-Dan®, Oshkosh Specialty Vehicles, Frontline™, CON-E-CO®, London® and IMT®. Oshkosh products are valued worldwide in businesses where high quality, superior performance, rugged reliability and long-term value are paramount. For more information, please visit www.oshkoshcorporation.com.
®, TM All brand names referred to in this news release are trademarks of Oshkosh Corporation or its subsidiary companies.
FORWARD-LOOKING STATEMENTS
This press release contains statements that the Company believes to be "forward-looking statements" within the meaning of the Private Securities Litigation Reform Act of 1995. All statements other than statements of historical fact, including, without limitation, statements regarding the Company's future financial position, business strategy, targets, projected sales, costs, earnings, capital expenditures, debt levels and cash flows, and plans and objectives of management for future operations, are forward-looking statements. When used in this press release, words such as "may," "will," "expect," "intend," "estimate," "anticipate," "believe," "should," "project" or "plan" or the negative thereof or variations thereon or similar terminology are generally intended to identify forward-looking statements. These forward-looking statements are not guarantees of future performance and are subject to risks, uncertainties, assumptions and other factors, some of which are beyond the Company's control, which could cause actual results to differ materially from those expressed or implied by such forward-looking statements. These factors include the cyclical nature of the Company's access equipment, commercial and fire & emergency markets, especially in the current environment where there are conflicting signs regarding the future global economic outlook; the expected level and timing of the U.S. Department of Defense (DoD) procurement of products and services and funding thereof; risks related to reductions in government expenditures in light of U.S. defense budget pressures and an uncertain DoD tactical wheeled vehicle strategy; the ability to increase prices to raise margins or offset higher input costs; increasing commodity and other raw material costs, particularly in a sustained economic recovery; risks related to the Company's exit from its ambulance business, including the amounts of related costs and charges; risks related to facilities consolidation and alignment, including the amounts of related costs and charges and that anticipated cost savings may not be achieved; the duration of the ongoing global economic weakness, which could lead to additional impairment charges related to many of the Company's intangible assets and/or a slower recovery in the Company's cyclical businesses than Company or equity market expectations; the potential for the U.S. government to competitively bid the Company's Army and Marine Corps contracts; risks related to the collectability of receivables, particularly for those businesses with exposure to construction markets; the cost of any warranty campaigns related to the Company's products; risks related to production or shipment delays arising from quality or production issues; risks associated with international operations and sales, including foreign currency fluctuations and compliance with the Foreign Corrupt Practices Act; risks related to actions of activist shareholders, including the amount of related costs; the Company's ability to successfully execute on its strategic road map and meet its long-term financial goals; risks and uncertainties associated with the pending tender offer for the Company's shares, the outcome of any litigation related to the offer or any other offer or proposal, and the Board's recommendation to the shareholders concerning the offer or any other offer or proposal. Additional information concerning these and other factors is contained in the Company's filings with the Securities and Exchange Commission, including the Form 8-K. All forward-looking statements speak only as of the date of this press release. The Company assumes no obligation, and disclaims any obligation, to update information contained in this press release. Investors should be aware that the Company may not update such information until the Company's next quarterly earnings conference call, if at all.