OSHKOSH, WIS. (May 31, 2013) – Oshkosh Airport Products Group, a division of Oshkosh Corporation (NYSE: OSK), delivered three Oshkosh® Striker® 4 x 4 aircraft rescue and fire fighting (ARFF) vehicles to New Guinea's National Airports Corporation, a state aviation enterprise owned by the people of Papua New Guinea. The Oshkosh Striker ARFF vehicles are on duty at Jacksons International Airport (also know as Port Moresby Airport), the country's largest and busiest airport.

"We are honored to be chosen by National Airports Corporation to provide Striker vehicles to this important airport hub in a fast growing and diverse part of the world," said Jeff Resch, Oshkosh Airport Products Group vice president and general manager. "Sales of the Striker continue to accelerate in countries throughout Asia and the Pacific region, and that's a testament to Oshkosh performance, reliability and support after the sale."

The Striker 4 x 4 offers advanced safety systems and delivers innovative fire suppression technology, unmatched chassis performance, and unsurpassed reliability and durability. The all- wheel drive axle configuration, with Oshkosh TAK-4® all-wheel independent suspension, offers a smooth ride and excellent off-road capabilities. One of the Papua New Guinea Striker vehicles features a Snozzle® high reach extendable turret for faster and more effective fire response.

Papua New Guinea is a country in Oceania that occupies the eastern half of the island of New Guinea and numerous offshore islands. It is one of the most culturally diverse countries on earth, and the 12th fastest growing economy in the world. National Airports Corporation owns and operates 22 national airports located throughout the country, including Port Moresby, Nadzab, Mount Hagen, Tokua, Madang, Wewak, Gurney, Hoskins, Goroka, Kavieng, Buka, Momote, Vanimo, Tari, Mendi, Kundiawa, Wapenamanda, Kerema, Chimbu, Daru, Girua, and Arawa.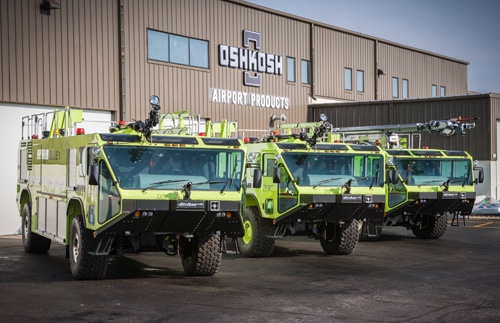 Photo caption: Oshkosh Airport Products Group delivers three Oshkosh® Striker® aircraft rescue and fire fighting (ARFF) vehicles to National Airports Corporation in Papua New Guinea.