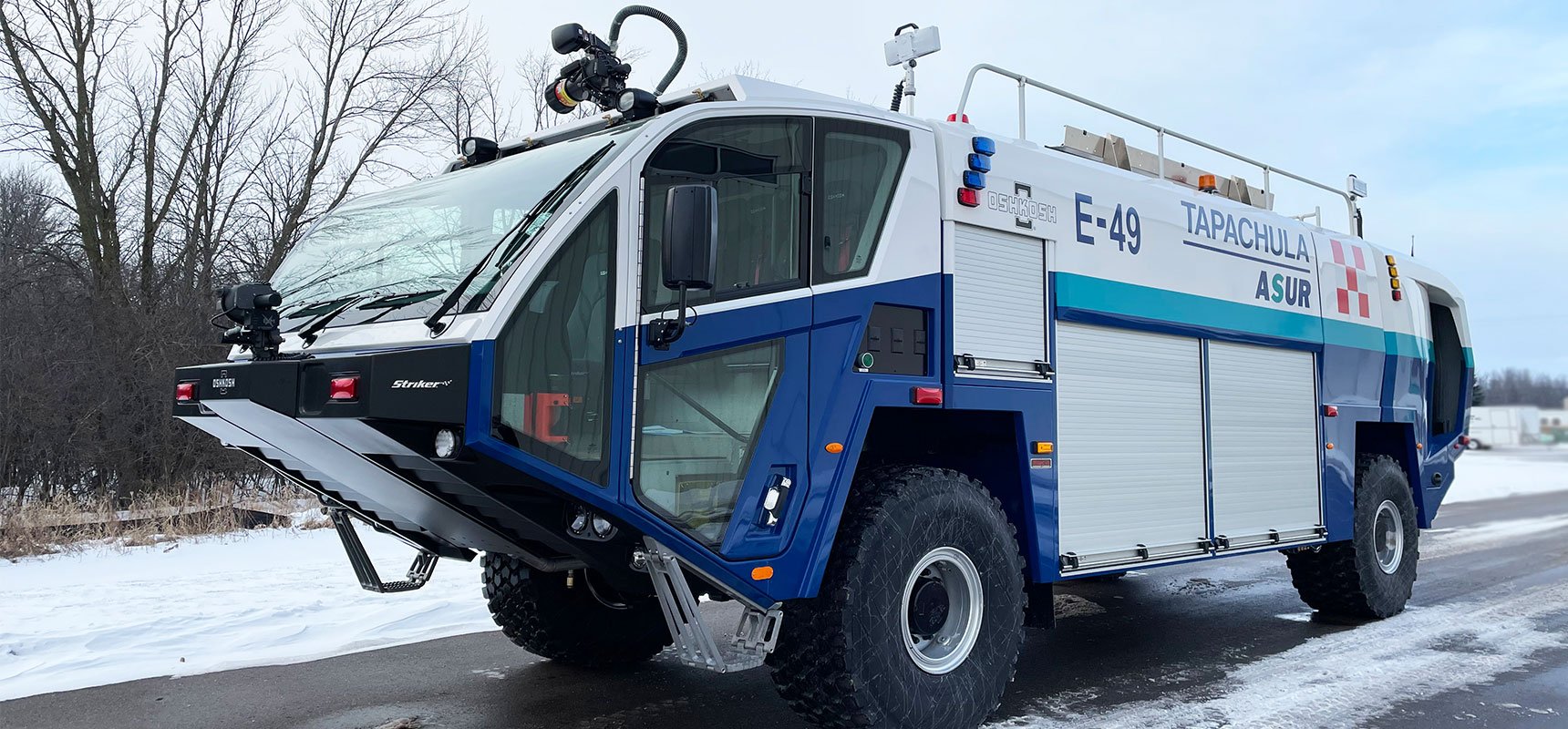 The Oshkosh Striker® 4x4 ARFF vehicle will support operations at Tapachula International Airport, Mexico's southern-most airport.

OSHKOSH, WIS. (February 28, 2022) – Oshkosh Airport Products, LLC, an Oshkosh Corporation (NYSE: OSK) Company, announced today the Tapachula International Airport (TAP), located in Tapachula, Chiapas, in southern Mexico has taken delivery of an Oshkosh Airport Products Striker® 4x4 ARFF vehicle. The new fire apparatus was purchased through dealer ATEPSA located in Guadalajara, Jalisco Mexico and delivered in February 2022. It is the newest addition to the Grupo Aeroportuario del Sureste (ASUR) operated airport.

"We have enjoyed an incredible relationship with ASUR the last 20 years, and our team is proud their fleet is made up entirely of Oshkosh Airport Products ARFF vehicles," said Eduardo Palacio, Manager, ATEPSA. "The TAK-4® independent suspension, which is unique to the Striker 4x4, is a great addition to an already amazing emergency truck. Also, the wide field of view and the user-friendly controls are customer favorites."

Features of Tapachula International Airport's Striker 4x4 ARFF vehicle:
Deutz 2015 V8 670 HP Tier 3 engine
Water capacity: 1,500 gallons (5,678 liters)
Foam capacity: 210 gallons (795 liters)
Dry chemical capacity: 550 pounds (227 kg)
Oshkosh TAK-4® independent suspension
50-foot (15.2 meters) Snozzle® High Reach Extendable Turret (HRET) with FLIR camera
Acceleration of 0-50 mph (0-80 kmh) in under 25 seconds
375 / 750 gpm (1419 / 2839 lpm) roof turret
300 gpm (1136 lpm) bumper turret
ASUR operates nine airports in the southeastern region of Mexico and serves approximately 23 million passengers annually. There are currently over one hundred Oshkosh Airport Products emergency vehicles at airports throughout Mexico.

"Tapachula is an international airport which has to meet the highest quality standards with the shortest possible response time," added Palacio. "We are confident the new Striker 4x4 will meet and exceed their needs, and we are committed to continuing to provide the highest level of sales and service support."

To learn more about Oshkosh Airport Products and Tapachula International Airport's new Striker 4x4 ARFF vehicle, visit www.oshkoshairport.com.